Sanctuary of Scottsdale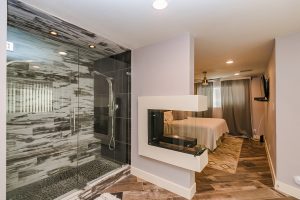 When a current, multiple property owner client came to us with his newly remodeled house near Thomas Road and 64th Street in Scottsdale, Arizona, this "hard money" investor initially intended to add another long-term rental property to his existing portfolio of over 20 rental properties under management with Real Property Management Evolve.
However, after we conducted a Vacation Rental Analysis, we recommended he instead prepare and list his investment property as a short-term vacation home rental to leverage the maximum profit his rental home could generate due to its favorable location and amenities.
Our professional vacation rental property management team furnished and supplied the house, recommended a key home improvement, and advertised it as a vacation home rental.  Within a week we signed a 2-month lease with a professional baseball player during MLB's spring training.
Summer vacancy was filled with a 3 month contract by a professional basketball player in town during his off-season.
Fall and winter vacancies were occupied at shorter, more optimal, multi-day intervals and rates to maximize annual profitability.
Our Scottsdale vacation property management team filled the vacancy to an occupancy rate of 95% during the high season and exceeded annual income projections resulting in a return on investment (ROI) to the owner client of over 3.5 times management costs.
The success of this vacation home rental convinced our client to have us manage yet another one of his properties within his property investment portfolio as a Scottsdale vacation rental to even further financial success.
Profile of a "Hands-off" Scottsdale Rental Property Owner Investor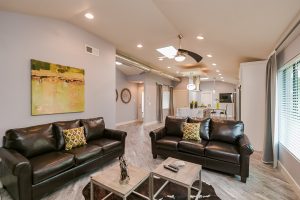 Although the property owner client of this vacation rental home lives in the Phoenix area, he doesn't want anything to do with managing his properties, and therefore he requires all property management to be "hands-off" by him.  Yet, each property must still return a positive return on investment.  It's all about the bottom line numbers to this client.
This Scottsdale rental house was introduced to us after managing the other properties in his rental property investment portfolio due to his co-ownership with a partner who acted as the general contractor, who did the legwork on its remodeling in return for sweat equity.  After the house was remodeled, our client bought out his partner and presented the property to us to manage as what he thought would be another long-term rental home in his portfolio.
After we conducted our Vacation Rental Analysis, and it was decided to rent the house as a vacation home rental, we fully furnished the house with furniture, decorations, and the following vacation-rental-necessary supplies:
Towels
Linens
Dishes
Silverware
Cleaning Supplies
Patio Furniture
Games
Bicycles
From past experience, we strongly recommended installing a pool heater as a key home improvement that would be important toward successfully marketing this vacation home to the most attractive target audience.  While the pool heater installation was relatively expensive, it was necessary to attract travelers during the cooler months, who come to expect such an amenity from a vacation home rental in such a strong destination location as Scottsdale, AZ.  However, to offset the cost, we charge visitors a mandatory daily flat rate for the heated pool during the seasonal months of use.
We then listed the vacation rental house on our preferred advertising channels.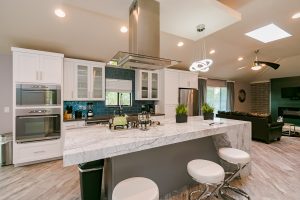 Within 1 week, we had a professional baseball player book it for the first 2 months during Major League Baseball (MLB) spring training.
An international, professional basketball player, who resided for 3 months in Scottsdale during his off-season was then contracted for the summer.
The autumn months – the beginning of Scottsdale's high season – were broken down into 5-night minimum stays, with winter months – the peak of the high season – being booked at relatively higher rates due to higher demand, thus avoiding daily and weekend-only bookings, which can result in sub-optimal weekday vacancies.
We continued to book this property at our full rate to the end of December, when we re-evaluate to determine "specials" for any remaining open vacancies.
Vacation home rental property management requires much more involvement than traditional long-term rental property management where you can often set the annual price, rent it, and not have to worry about pricing or vacancies for the rest of the year.
Because our vacation home rental management team is focused on getting the highest occupancy possible by more proactively managing vacancies, maximum fill rate and profits are the natural result.  Due to our diligent approach, this vacation rental had a 95% occupancy rate the first year during the high-season.
The Real Property Management Evolve Difference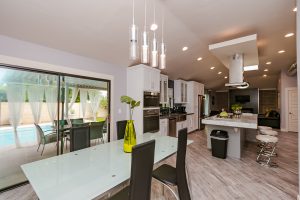 Our solid Scottsdale vacation rental property management team is what sets us apart.  We feel the most important difference to the success of our owner clients' vacation home rentals is the combined efforts of our comprehensive team of property managers, interior decorators, contractors, maintenance, and administrative professionals.
One of the challenges of being successful in the Scottsdale vacation home rental business is the ability to anticipate, and address, the particular needs rental visitors have to ensure their happiness with the rental.  Our deep experience in vacation home rental management has developed our knowledge of what it takes to ensure our vacation home guests are happy.
Responding to our guests' recommendations and requests is quite important to us. For example, after receiving feedback and demand for more sleeping accommodations, we purchased a sofa sleeper for the living room to expand this vacation home's overnight capacity.
Our friendly and professional greeter welcomes each visitor client at the vacation home, walks through the home to familiarize guests with all amenities and any special considerations – which every house has.
Our greeter answers any questions visitors may have, and directs them to local attractions, restaurants, events, and other local highlights with the help of our custom "Welcome" book, compiled specifically for each vacation rental home we manage, which includes emergency contacts and addresses, nearby food, nice steakhouses, nightlife, and outdoor activities such as nature walks, etc.
Basically, we ensure our visiting guests feel comfortable and at home, right when they arrive.
Our welcome walk-through also ensures any last minute or unscheduled supplies are replenished such as burned-out light bulbs or a good supply of toilet tissue.
When our guests feel welcome and we answer all their questions upon arrival, many leave very positive guest reviews.  These positive reviews result in preferential listings from our advertising channels who value these positive customer experiences.  This makes it even easier for us to fill the vacancies of your vacation rental home.
And because our vacation home rentals have high occupancy rates, check out's and check in's often happen on the same day, so everything gets done by our efficient team in a very timely manner.
When we manage your vacation home rental, you will benefit from our professional, team process.
Finally, the best part is after a year of Real Property Management Evolve managing this vacation home rental, we easily flew past the annual income projections forecast during the initial Vacation Rental Analysis, making for a very pleased property owner client.
Paradise Cove of Scottsdale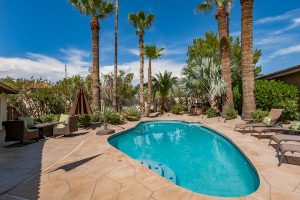 6 months after the previous vacation home was first rented, the owner client had a vacancy come up with another property with a pool and spa in the Scottsdale neighborhood near Via de Ventura and Hayden Road.
This rental house was originally leased as a long-term (annual) rental, however due to the early success of the first vacation home rental, we transitioned it to a short-term vacation rental as well.  This second rental house also had the benefit of an additional bedroom and an optimal central location, making it even more attractive to the vacation home rental market.
We also conducted a Vacation Rental Analysis for this rental house, which included all the costs to fully furnish and supply the home, along with annual rental income projections.
For this vacation home rental we decided to hire a professional interior designer, whom both the client and Real Property Management Evolve had used previously to great effect.  Not only did she design a full interior plan to an up-to-date and stylish layout, including paint colors, but she also was tasked with improving the interior design of the first vacation home that had previously been partially staged by the contractor-partner to freshen up its look and feel.
We also insisted a pool heater be installed to meet the expected guest standards for such a vacation rental property.
Upon fully furnishing and supplying this Scottsdale vacation rental home, we had professional photos taken as part of the annual advertising fee.  Professional photographs are very important to "sell" a vacation rental.
We then managed to lease this vacation rental home at an occupancy rate of almost 99% during the high season.  It generated an annual 3X profitable ROI, which is impressive due to initial improvement costs being the highest in the first year.
The Real Property Management Evolve Vacation Rental Advantage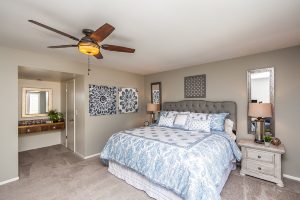 The Scottsdale Arizona vacation home rental market comes built-in with some world-class attractions such as:
Major League Baseball Spring Training
Barret Jackson Auction
PGA (Professional Golfers' Association) of America Events
Winter Golf
The amenities that set this vacation rental apart are its 4 full bedrooms, game room, nice big open family room with dining room, and spa.
While the basic amenities of the rental property itself such as its spacious 4 bedrooms and convenient central location contribute toward its success as a vacation rental vs. listing it as a long-term rental, it is what we do at Real Property Management Evolve that truly increases the profitability of every vacation home we manage.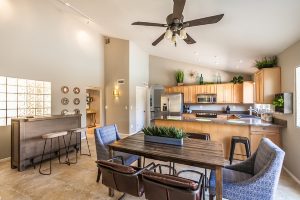 Here is a sample list of what we do for every vacation home rental to improve its profitability:
Conduct a Vacation Rental Analysis of Costs & Income Projections
Create a Branded Name and Custom Logo for each Vacation Home
Create a Vacation Home-specific "Welcome" Book
Charge Guests – Not Owners – a Cleaning Fee
Provide Property Damage Protection – Short-Term Insurance/Damage Waiver Paid for by the Guest
Make Ongoing Improvements Directed by User Reviews – For example, we replaced a bed that was too hard and loud, and a TV that was too small.
Deliver Fast and Friendly, 24/7 Responses by our On-call Property Manager for both Guests and Prospective Guests
The combination of all these vacation home rental property management services results in an upward spiraling cycle of very positive guest reviews, which in turn improves the prominence of our vacation home listings on the best advertising channels, which results in lower vacancies at higher rates, which ultimately generates greater profitability for you, the investment property owner.
Call Us Today
If you, or someone you know, have a vacation home rental in the Phoenix area, or would like to rent out your Phoenix house, we invite you to call us at 888-977-3001 today to find out how Real Property Management Evolve can help you earn a positive return on your investment property while being completely "hands-off" all property management responsibilities.